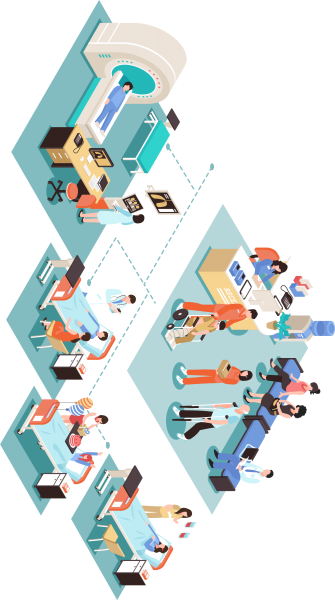 Hospital Management Software in Rampur
Cloud based Hospital Management Software in Rampur
Our Franchise Office is located at Safdar Ganj Bazar, Rampur for hospital software sales & support with well qualified management for client site demonstration & implementations to fulfilling the daily basis requirements of hospitals & nursing homes. We have a specialised team for offline / online support and to provide on-campus training for truly client satisfication based on innovative training modules. The team has primary focus to maintain 100% uptime support & maintenance for our valuable clients to avoid any kind of inconvenient in software handling. Our Marketing Executive are well trained to cover all the main locations of Rampur.
SoftCure Hospital Management Software is an innovative & easy to use best hospital management software as well as hospital billing software that covers all important keys functions of Hospital Operations & Management. It takes care of all kinds of OPD & IPD management activities with primary concern to keep patients's EMR & financial records. SoftCure is an EMR software that has specific modules for Billing, Treatment, Discharge, MIS Reports, referral incentive & daily expenses modules. SoftCure is very cost effective software in comparison to other vendors dealing in this field hence we are also famous as cost effective hospital software provider.
SoftCure Hospital Information System (HIS) is an ideal package for integrating the entire healthcare organization & its management activities. Our hospital software is unique designed easy to use product that eliminates the errors caused by handwriting processes. This Software is compatible for SMS Gateway integration. We have a specialisation in website designing & development for hospitals. Hospital can run their marketing campaigns with the list of patient's mobile numbers filled at OPD/IPD registrations in the software. Our designers can develop eye & mind catching websites for your Hospital marketing & promotional activities.
Softcure is best hospital management system software developed to perform all aspects of a hospital administration also famous as NABH compliant hospital software & IRDA compliant TPA Software. Our Software is a complete suite for all paradigms of healthcare including OPD and IPD Management, TPA Management, Discharge summaries, IRDA Compliance Bill, Collection Management, Ward Management, Online Appointments Scheduling, Secured Messaging, Doctor Portal, Medical Electronic Billing, Daily Expenses, Accounting with HR/Payroll. Electronic medical record (EMR Systems) in our software helps to provide information regarding patient admission, treatment, discharge card, patient health records and other related key metrics at your single click. It also assists as the decision support system for the hospital administration & owners for developing comprehensive health care policies.
Softcure : Hospital Software
Our software follows the guidelines & standards designed by NABH, where patient record has maintained by a Unique UHID. Our TPA Management is developed as per the standards of IRDA Summary bill format under Schedule IV-A and detailed bill format under Schedule IV-B having IRDA Level codes.